Avalon New Jersey Boat Charters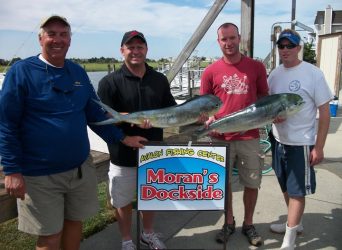 Planning to rent a boat for the day for your group's fishing trip? Call us at 609-368-1321 and ask us about our charter boat booking services. Our charter options include:
Back Bay – for bluefish, flounder and striped bass: ~ $400 for four hours
Inshore 5-15 miles – blues, sharks, bonito, and striped bass: $500-$700 for a half day, $700-$1,000 for a full day
Offshore Chunking – 30-50 miles – tuna and shark: $1,500-$2,500 for ten hours
Canyon Trolling 50 miles+ – tuna, marlin, dolphin: $2,200-$2,600 for 12 hours
Overnight Trips – swordfish, tuna, marlin and dolphin: $3,000-$3,600 for 24 hours
All of our prices are approximate and subject to change. All of our boats except for Back Bay are licensed for six people maximum.